While you're flipping burgers in your backyard on the grill, take a few minutes to think about your propane tank – other than wondering if you need take it in for a refill.
The propane itself in that cylinder making those perfect grill marks possible is a pretty interesting gas liquid that has a worldwide presence and millions of barrels and gallons originate from Mont Belvieu, TX, a town you may have never heard of.
What Is Propane?
There is a class of hydrocarbons called natural gas liquids (NGL) that occur as gases at atmospheric pressure and as liquids under higher pressures. Of all the natural gas liquids traded, from ethane to natural gasoline, propane is the most liquid.
Propane, a clean burning fuel, can be used for residential purposes in heating homes and cooking; in fact, many household appliances that run on heating oil, wood, natural gas and electricity can be replaced with propane. Propane can also be used for industrial and commercial purposes in industrial furnaces and kilns, fuel in fork lifts, bus fleets and autogas. It is also part of the petrochemical feedstock chain to make other chemicals and plastics.
Hear a bit more about the versatile uses of propane fuel in agriculture in a clip from our latest OPIS Crash Course Podcast.
How Does Propane Fit into the Global Energy Market?
Much of the new millennium witnessed an enormous increase in the domestic production of shale gas, with production encompassing the Ohio River Valley to Texas, the northern part of America, along the Gulf Coast and certain interior states as well. That had a huge impact on the global LPG industry.
In less than a decade, fractionation of shale plays and the expansion of the oil and gas industry has enabled U.S. to move from an importer to a net exporter of natural gas liquids, specifically propane.
Hear some more facts about the big turnaround in this snippet from our podcast.
While propane may be unique in many ways, its journey from a bonded carbon molecule to a cylinder is subject to a supply chain as any other fuel and has its own spot market.
On an average trading day, propane constitutes the highest volume among all NGL traded in the NGL spot markets. It then is bought and sold at the wholesale and retail level and ultimately makes its way to the end user or customer.
The highest-profile hub of the propane spot markets in North America is Mont Belvieu.
Mont Belvieu? Where Is That?
Mont Belvieu in Texas has naturally occurring salt dome formations that serve as storage facilities for propane and has extensive access to pipelines, gas processing facilities and waterborne terminals.
This small town has emerged as the nucleus for propane processing, witnessing an enormous expansion in infrastructure provided by the industry players operating in the region. A superhighway of pipelines connects to storage, major refineries, fractionators, PDH (propane dehydrogenation) units and import and export assets. With its strategic location along the U.S. Gulf Coast, Mont Belvieu has emerged as a prominent export facility for trading propane.
Hear a little color about the transformation of Mont Belvieu over the years.
Why Do Mont Belvieu Propane Prices Matter?
For the propane industry players – producers, suppliers, retailers, wholesalers – it is critical to keep an eye on the Mont Belvieu spot market. OPIS provides the official spot benchmark for propane prices in Mont Belvieu.
Hear a little bit more about how OPIS spot benchmarks are used.
Interconnectivity a Key Component of Mont Belvieu's Importance
Because of the immense network of pipeline and waterborne infrastructure that carries propane and other NGLs out of Mont Belvieu's processing nexus, the trade movements in this small Texas town have influence well beyond its borders.
The OPIS North American Propane Ticker is one way to see how prices in Mont Belvieu relate to those in the Conway, Kansas hub, all the way north to Canadian spot markets.
Meanwhile, the OPIS Global LPG Ticker shows Mont Belvieu pricing in relation to markets in Europe and Asia, giving market participants a quick reference point to decide whether its economical to ship internationally.
What's Next for the Propane Markets? Two Major Game Changers
About two decades ago, online trading of propane and other NGLs was a relatively new concept. These days, online platforms along with voice brokers have really grabbed hold of the market and have been game changers for liquidity.
Of course, we also see shale plays continuing to have a major role in shaping the market for gas liquids and continuing to help solidify the U.S. role as a net exporter – with Mont Belvieu featuring even more prominently.
The numbers really don't lie. Back in 2014 the U.S. contributed to 19 percent of the global LPG supply. Now in 2018 to date we're about 35 percent. Most likely we will be the largest global LPG supplier exporter by end of year, a distinction typically held by the Middle East.
So, expect big things from this unassuming clean burning fuel that powers your backyard grill. And for more on this versatile fuel, check out the full episode of our latest OPIS podcast.
The OPIS Crash Course: A New Way to Learn About Fuel Prices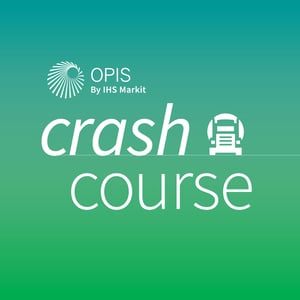 At OPIS, we make it our goal to help people in the global energy market buy and sell with confidence. We see fuel price education as the first step to achieving that aim.
Each episode of the OPIS Crash Course will cover a key topic in the fuel market related to the commodities we cover. Our goal is to bring you and anyone on your team up to speed on the dynamic fuel price marketplace, drawing on 40+ years of OPIS expertise.
Visit our podcast page to subscribe for free today. We'll connect you to this episode and provide instant notifications of new ones!
Find the OPIS Crash Course Podcast Free Here: