The world party of the styrenics chain of late has seen benzene traveling from Europe to the US and polystyrene traveling from Asia to the US. Not only does this indicate that prices in the US are high enough to attract imports, but what's missing is also notable. What's missing? Styrene.

OPIS Associate Director and aromatics market expert Shayan Malayerizadeh notes that in a typical market, the trade flow of note is how much benzene moves from South Korea to the US Gulf Coast. In September and October 2022, Malayerizadeh said that this volume was less than 25,000 metric tons, significantly below a monthly average of 50,000 mt seen in the past year.

While many European products are high-priced themselves or just plain unavailable as ongoing exorbitant energy costs have either been able to be passed through or have caused plants to limit their output, benzene in the region has been in disposition mode.

European refining margins have actually been decent. In a recent quarterly earnings call, European major Neste reported its third quarter refining margins at $28/bbl. "European oil product and natural gas prices remained exceptionally high. The refining margin was supported particularly by the strong diesel margins," according to a statement from Neste.
The strong margin has kept refiners inspired to run at high rates, creating a lot of benzene in the process. But the local styrene market hasn't really needed it.
"Styrene producers and its consumers are said to be showing minimum buying interest," the OPIS European aromatics team noted this week in a report. "Despite one styrene producer not running its unit at the moment, supply was described as ample. Demand meanwhile is said to be weak."

LyondellBasell confirmed in its Q3 earnings call that it would idle its joint venture PO/SM plant in Maasvlakte, The Netherlands, for the remainder of the year.

Since US Gulf Coast benzene prices have been the highest among major regions, Malayerizadeh noted that the arbitrage from Europe flew open and there was little competition for the demand from Asia. "On the other hand, benzene imports from Asia have dropped while derivative operating rates are moving up," he wrote in a report this week.

Could this be the trend for the foreseeable future? Malayerizadeh doesn't think so.

While the slackening of volumes from Asia was offset by about 50,000 metric tons of benzene from Europe entering the US, imports from Europe will not be a sustainable solution to close the benzene supply gap. "The European market does not have enough production depth or logistical capacities to keep the flow going consistently," according to Malayerizadeh. The arb from Europe is also not wide and is dependent upon freight rates that parties are able to secure to make the deals work.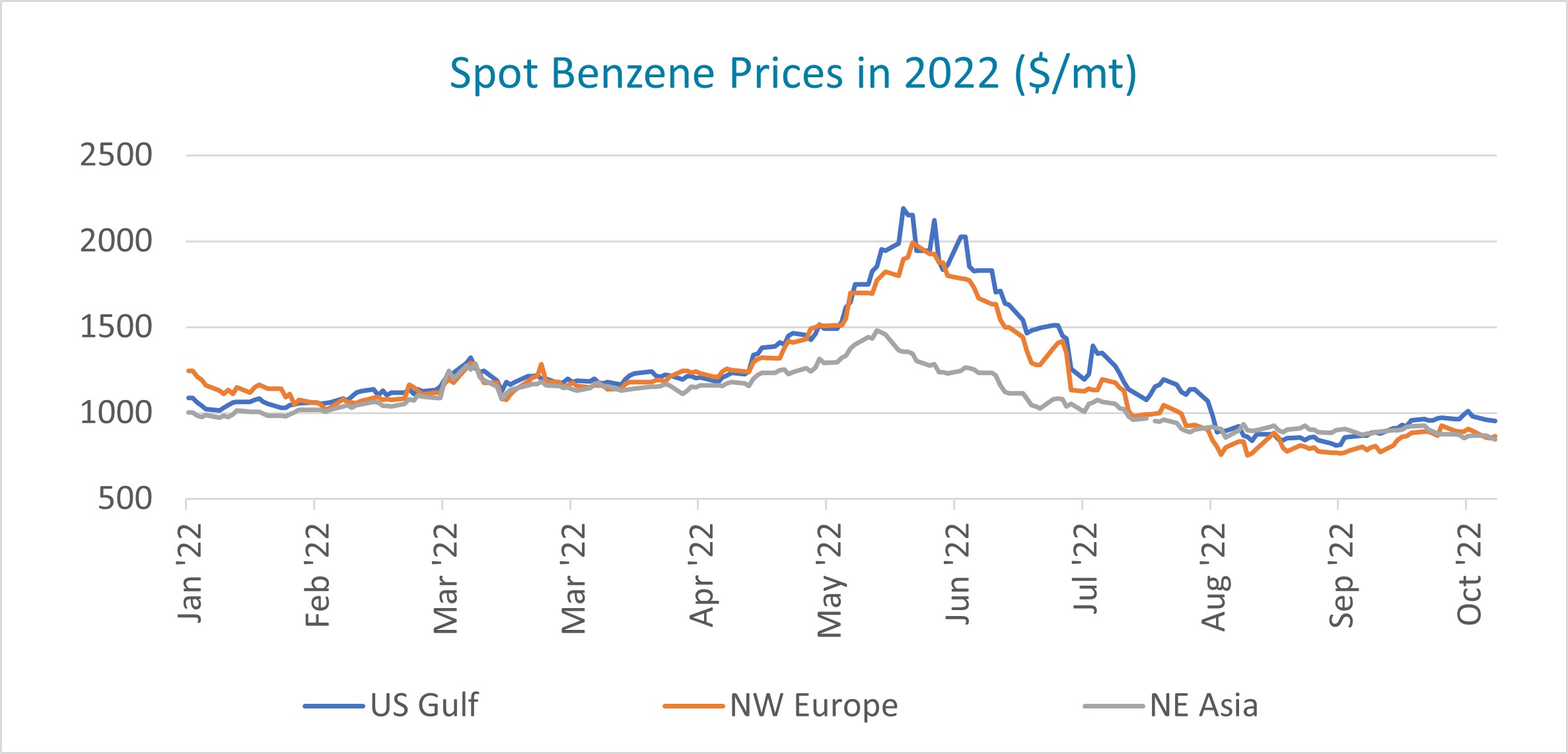 Another factor that could stem the demand for benzene in the US is the increase of polystyrene imports seen in the region. The rising operating rate at derivative plants in Asia that Malayerizadeh noted has created an abundance of polystyrene – and the high-priced US market was just what exporters needed.

While US polystyrene prices themselves have seen significant declines – falling 12-13 cents/lb (roughly $275/mt) at the start of September 2022 and a further 10 cents in October, they have indeed remained the highest in the world in the mid-90s cents/lb ($2,095/mt) for high-impact material (HIPS) and in the mid-80s cents/lb ($1,870/mt) for general purpose grade (GPPS).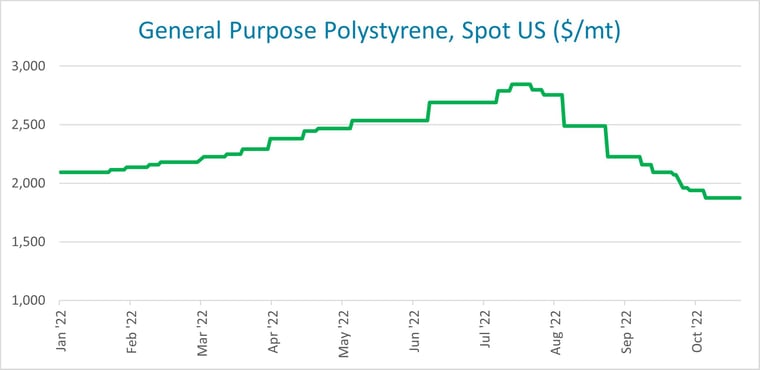 And so, OPIS PCW Associate Director and polymers expert David Barry noted in the October 21, 2022, issue of the PCW Week in Review that traders were seeing high volumes of imports on their way to the US. However, this trend is also likely to be short-lived.

"The price gap between imported and domestic resin is unsustainably large," Barry noted, citing observations by local resin distributors. The imports also put a heavy bearish pressure on a an already fragile domestic US market. "Demand was steady to soft, and producers had surplus prime availability," Barry noted in a mid-October report.

As we've seen, the global styrenics chain can change patterns quickly and players must be quick to pivot to capture the latest arbitrage. As we ease into the end of 2022, the merry-go-round may pause for a bit, but the new year is sure to bring a new ride.
Reporting by Kathy Hall (khall@opisnet.com), Shayan Malayerizadeh (malayerizadeh@opisnet.com) and David Barry (dbarry@opisnet.com).
To stay on top of this key market, make sure you've got OPIS PetroChem Wire's
daily reports coming to your inbox!