What trends could take your convenience store and gas station profitability to the next level in 2020?
These topics were tops at the 2019 NACS Show this October in Atlanta, Ga. Read on for 10 trending products and services that could help you grow as a retail fuel marketer next year and beyond!
1. High Times for CBD
The cannabis business is ready to boom at convenience stores. An entire section of the NACS Show program was devoted to cannabidiol oil, or CBD, and an educational session – "CBD, Hemp, Edibles: What Retailers Need to Know About This New Category" – packed the conference room as well as two rooms designated to handle overflow.
Some 26% of all Americans have consumed or used CBD, according to the presentation. Consumers in their 20s are the most common purchasers, though age 60-plus consumers are a growing market segment.
But while CBD's popularity is growing, potential sellers need to beware of the risks of marketing the product, based on experts offering information on the category. There's still uncertainty over the legality. CBD and related products face restrictions state by state, they pointed out. There is little research on the products, which is a concern particularly for consumers of edible versions versus topical products.
CBD contains less than 0.3% of THC and is not known to produce a "high" as the controlled substance marijuana does. However, experts warned that trace THC can build up in the body and cause consumers to flunk drug tests.
A variety of CBD known as "isolated" may be marketed as pure or THC-free; nevertheless, the U.S. Food and Drug Administration is reviewing this product for designation as a drug ingredient. The FDA has yet to set rules on dosage, drug interactions and labeling.
2. Amazon Enters the C-store Biz as a Supplier
While c-stores have feared Amazon as a retail rival, particularly after its entry into brick-and-mortar stores, Amazon Business touted what it can offer the convenience-fuel industry as a supplier. At its booth, Amazon promoted its new wholesale distribution service.
"Amazon is now offering nearly 1 million SKUs available across a number of categories … and giving retailers 30-day payment terms with no minimum drop sizes," noted Jefferies analyst Christopher Mandeville, who attended the show.
Though still lacking age-restricted products and food service items, Mandeville said the team manning the booth was convinced some food service items could be offered once Amazon Business improves cold-chain logistics.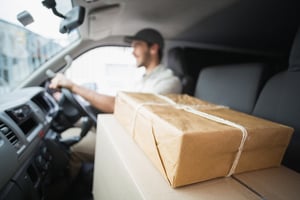 3. Delivery Service Makes Stores a Destination
A new business concept combines a locker program somewhat like Amazon's and a crowdsourced delivery driver program similar to Uber's. It's called ShipperBee, and reps said it can make a c-store or gas station a destination.
The parcel delivery industry is growing about 20% per year, the Canadian-based company said. The shipping service is an app-based system that directs drivers to the nearest "hive" (lockers) to pick up a bundle and move it to another hive. The lockers can be placed inside or outside the store. Lockers are solar-powered and come with their own security camera. There are two driver networks – one uses local drivers who make $20-$25 per hour and the other uses commuters who pick up a package on their way to or from work, making $8 to $10 to pick up a bundle. Retailers make a fee on each package through the hive at their store.
4. Self-Checkout is Not Just for Grocery Stores
NCR Corp. promoted its NCR FastLane SelfServ Checkout solution, with a rep touting the labor savings: A store can have four checkouts open with one staffer.
So far, the major c-store chains using the self-checkout system have not seen an increase in theft. "People usually steal in the aisles because there are too many cameras at checkout," he said.
Some of the units allow payment with cards, others also add cash as a payment option. Self-checkout improves the customer experience by curtailing lines, and store employees can spend more time cleaning, keeping coffee fresh or preparing food, he said.
5. Car Wash Business Continues to Clean Up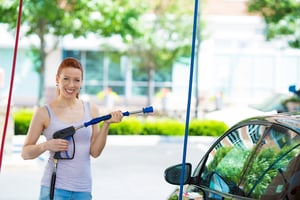 Last year, NACS devoted an educational session to the industry's renewed interest in car washes as a profit center.
Ultra "Unlimited Wash" belt technology was touted with the ability to multiply profits exponentially. The typical c-store's tunnel wash might run six to eight washes per hour, but Ultra Wash can run 45 to 50 washes per hour.
The technology has been available to the car wash industry for about a decade but is new to c-stores, reps said.
The belt promotes speed and easy loading. There's no need for a staffer to load the vehicles into the wash, so it can save on labor costs. The wash itself is about the price of a conventional tunnel wash, the exhibitor said.
Another car wash equipment on exhibit was called "Washify," which automates car wash loyalty programs using license plate recognition.
6. Sustainability Becomes a Priority
C-store chains are becoming more environmentally friendly and conservation-conscious.
One example from the NACS "Ideas 2 Go" presentation featured Choice Market in Denver, which packages prepared food in recyclable and compostable containers to meet its sustainability goals to sort and recycle packaging.
7. EV chargers Still Generating Buzz
NACS provided an educational session on how to position stores to provide electric vehicle charging stations, though, based on the Fuel Institute's numbers, EVs still don't pose a near-term threat to gasoline-powered vehicles.
Gilbarco, which unveiled an EV charger at last year's NACS Show, introduced payment options for its EV fast chargers this year. Customers can opt to use a card reader to pay with credit or debit cards, as well as mobile payment.
8. Healthy Fo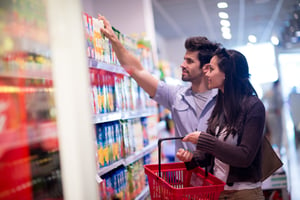 od Options Remain a Trend
The emphasis continues to be on fresher, healthier alternatives such as organic food, high-protein snacks, vegan food, gluten-free snacks and vegetable protein sources.
Some examples include the Perfect Bar, a refrigerated protein bar without preservatives, offered by Mondelez International, as well as Kay's Naturals certified gluten-free, high-protein cookies and Veggiecraft Cauliflower Puffs. Enjoy Life Foods focuses on allergy-free products, touting that its goods exclude the top seven allergens.


9. Technology Luring Gas Customers Inside
Marketers are using mobile apps to get motorists into the store for higher-margin purchases.
GetUpside, known for its mobile app offering real-time discounts on gasoline, has launched a new c-store product designed to entice fuel customers with store specials.
Beta tests suggest that its c-store product users make store purchases twice as often as customers without GetUpside and 60% of those users had never been to the c-store before. Also, existing customers buy 20% more than they normally would.
GetUpside is currently available at more than 14,000 sites in 41 states through the U.S.
10. Innovation is a Prime Differentiator
Innovation is such a competitive advantage that Coca-Cola created a staff it calls the "transformational innovation team." The goal is to not only to keep the innovation coming but also at shorter intervals.
Recently, the team developed a product within a record 20 weeks, reps said.
What will they think of next? For the first time in the U.S., the company has released a limited-time flavor for the holiday season: Coca-Cola Cinnamon. It also launched Sprite Winter Spiced Cranberry as a limited-time holiday flavor.
Coke will launch an energy drink under the Coca-Cola brand in January, and Cherry Vanilla Coke and Cherry Vanilla Coke Zero Sugar will be available nationally in February.
Want more like this? Stay on top of the latest trends for fuel marketers with Oil Express.