The end of 2018 and the start of 2019 saw new owners for U.S. wholesale gasoline and diesel fuel terminals, with oil companies coming in and moving out. Here's a visual breakdown: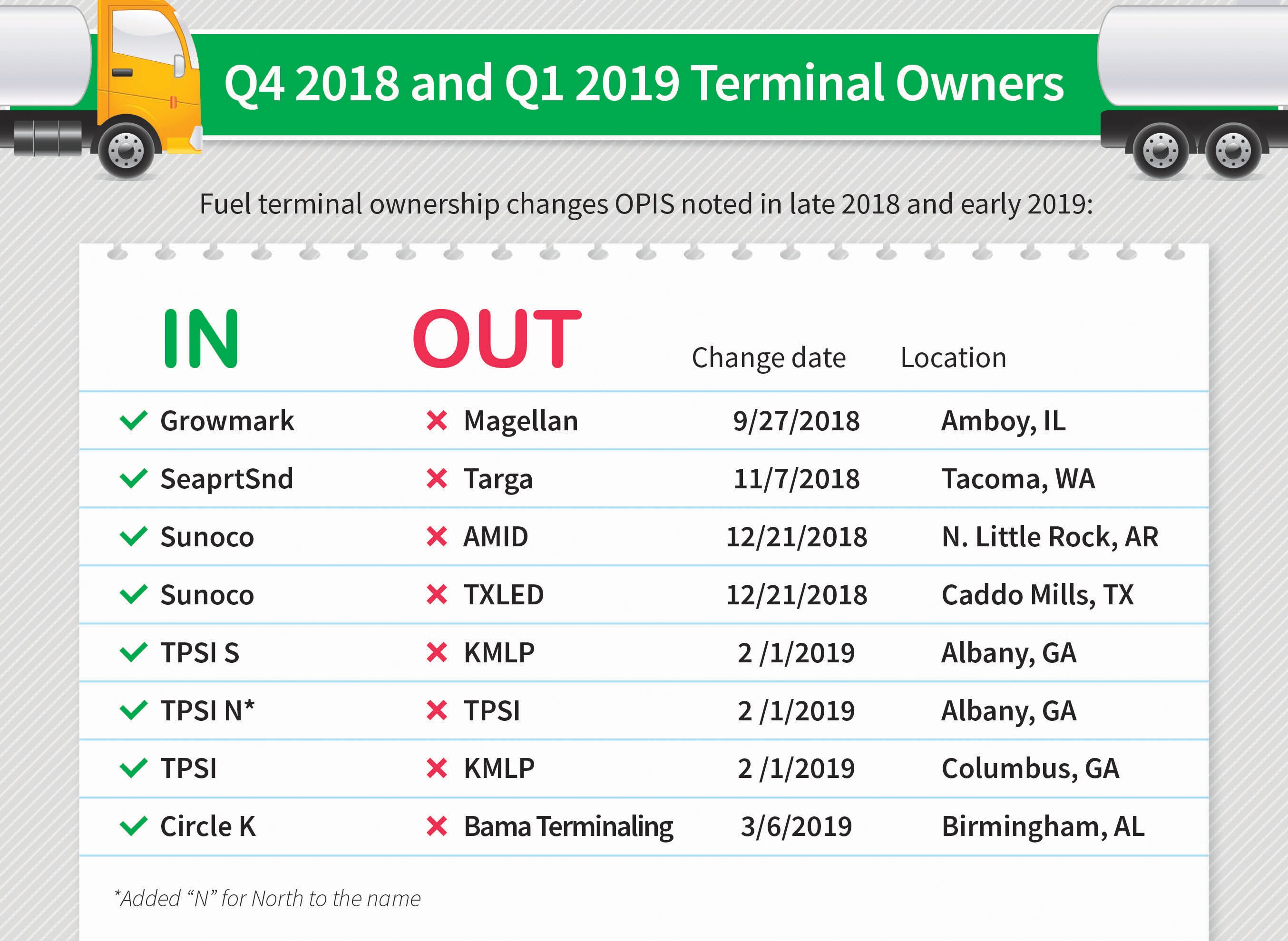 Not up-to-speed with fuel market acquisition news like this? Here's a March 2019 news alert from OPIS you may have missed, featuring one of the companies noted above:
Sunoco, a major fuel distributor in the U.S., will look to grow in size via acquisitions and economies of scale while it is no longer directly exposed to retail margin volatility, according to Moody's Investors Service.
As one of the largest distributors of motor fuels in the U.S., Sunoco benefits from the strength of the Sunoco retail brand and the geographic reach and revenue stability accruing from the wholesale distribution of motor fuel which has become its dominant business, Moody's said.
This followed the January 2018 sale of the majority of its company-operated retail fuel outlets for $3.2 billion to 7-Eleven Inc.
Earnings and cash flow derived from wholesale motor fuels distribution, while generating lower margins, are less volatile than that formerly derived from the retail sales of Sunoco's divested motor fuels and merchandise operations, the rating agency said.
Sunoco generates a fixed margin, which it expects to average 9.5-10.5cts/gal in 2019, on a significant portion of its gallons distributed and is no longer exposed to the volatility of retail fuel and merchandise margins associated with its retail businesses, it said.
Sunoco expects to distribute 8.0-8.2 billion gallons of wholesale fuel volumes in 2019.
Wholesale fuels distribution requires materially lower capital expenditures than retail; prior to its sale of the retail sites, capital spending on maintenance and facility upgrading had consumed a disproportionate amount of cash from operations, preventing the company from meaningfully reducing debt, it said.
Moody's believes Sunoco will look to grow to gain additional size through acquisitions and economies of scale.
During 2018, Sunoco completed five acquisitions of fuel distribution assets and terminalling businesses for an aggregate $350 million.
Sunoco's outlook is stable, reflecting Moody's expectation of the stability in earnings and cash flow that characterize Sunoco's wholesale motor fuels distribution operations.
Don't get caught off-guard by wholesale fuel terminal ownership changes. Stay in-the-know in 2019 (and beyond) with the OPIS Mobile News Alerts app, available on your Apple or Android device.